Finding Senior Care That Fits Your Needs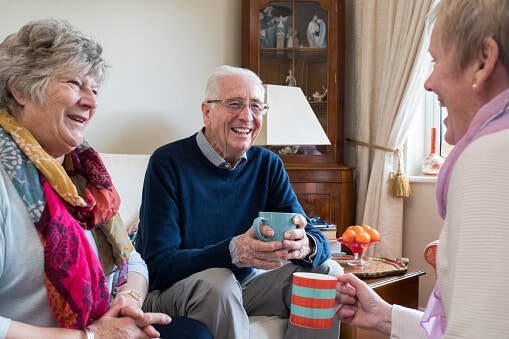 Assisted Living in the Chagrin Valley
When you begin searching for senior living options for yourself or your loved one, it's completely normal to become overwhelmed by the different care types and styles of retirement communities. Whether you're planning for your own future or helping a loved one find extra support, we're always here to help walk you through finding the appropriate care. To help you get started, we've outlined the different levels of living provided at Hamlet – we think you'll find our beautiful community is a wonderful place to call home.
Many families consider assisted living when they feel their loved one is in need of a helping hand as they move through their everyday routine. Residents receive assistance with bathing, dressing and grooming, as needed, on their own schedule. Laundry, linen and housekeeping services are also included, so residents are free to enjoy a full calendar of engaging activities and meaningful programming. In The Atrium, Hamlet's assisted living neighborhood, we get to know our residents and their families on a personal level, and care for each individual like family.
Short-Term Respite Care
Short-term respite care at Hamlet offers a helpful option for individuals or their caregivers who need support for a variety of reasons. Often, those who have been discharged from the hospital but are not yet ready to go home can benefit from respite care. Or perhaps a family member is unable to help with caregiving due to work, travel or an injury of their own. No matter the reason, individuals staying in respite care receive personalized assistance to help them gain strength and mobility while in a safe, accessible and caring setting.
For seniors who are able to live independently, we also have a residence options available. Independent living provides the close-knit community that Hamlet is known for – along with the freedom found in stepping away from the chores and expenses of maintaining a home. With outstanding amenities, abundant activities and entertainment outside your door, as well as convenient access to the charming Village of Chagrin, a vibrant lifestyle is easily attainable.
Hamlet's newest offering is memory care, providing support for those facing Alzheimer's or other forms of memory loss. Surrounded by the camaraderie of other residents and our compassionate caregivers, residents are empowered through meaningful enrichment programming, innovative therapies and social activities. And families can find greater peace of mind within the safety and security of our specialized memory care neighborhood.
Supportive Senior Care at Hamlet
As you look into different options in senior care, there are so many factors to consider. At Hamlet, we understand that providing the best possible care for a senior family member means finding the right type of help or support. Deciding on the "right" care for a loved one can be overwhelming, but you can count on us to help you make that choice easier in whatever way we can.