Ways To Make Your Senior Living Apartment Feel Like Home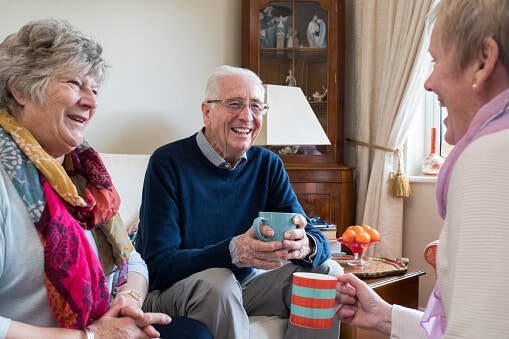 How To Get Yourself Settled Into A New Community
You may be feeling a little apprehensive or overwhelmed about the newest chapter of your retirement — and that's completely normal! Worry no more – there are simple ways to ease the transition by making your new apartment feel like home. Here are our tips for bringing touches of your personality and home into your apartment, which will in turn help you to feel more comfortable right from the start.
Bring Your Unique Style To Your New Home
Choose a community that makes you feel at home.
When looking into different senior living communities, be sure to observe how friendly the staff and residents are and how they all interact with each other. If it's the right fit, you'll feel warmly welcomed and relaxed.
Check community guidelines. The next important step after you've found the ideal community is to look into any rules or recommendations that your new community may have regarding changes to your apartment. By knowing about any restrictions up front, you'll be able to plan how to make your apartment as homey as possible.
Determine what furniture to use. According to your floor plan and square footage, start by measuring your furniture and deciding what pieces will best fit in your new space. You can also decide if you will want any new furniture once you move in. Comfortable seating, storage pieces and multi-functional furniture can be especially useful when you downsize.
Reflect your personality in your décor. It's exciting to start with a blank slate but be mindful not to over clutter, especially if moving into a smaller space. You'll most likely need to pare down decorative pieces while at the same time bringing your personal style and unique decorations. Many residents bring familiar décor from their former home, while others stick to a fun new theme or design — whatever makes you most happy and comfortable!
Add photos and other memories. Every home has to have sentimental touches to make it special. Framed photos of your family, friends and personal experiences will not only give you reason to smile but can also help jumpstart conversations with your new neighbors and discover shared interests.
Take part in opportunities for new connections. A very important part of feeling at home in your new community is getting to know the people around you. By dining in common areas with other residents, taking part in community activities and visiting with neighbors, you'll ease your way into interacting and start to feel more comfortable. Hamlet makes it easy by having ambassadors to show new residents around and introduce them to others in the community.
Keep in touch. Since we are often "homesick" for people, not necessarily places or things, it's important to stay in communication with friends and family outside of your community. Invite visitors over once you're settled in your new apartment and offer to show them around— and don't forget to introduce them to all your new friends and neighbors!
Make room for new memories. You'll soon be living life to the fullest at your new community and that means making plenty of new memories and sharing fun experiences with friends. Whether creating new décor in art class, harvesting veggies from the community garden or inviting friends to your apartment, we believe the more involved you become at your new home, the more at home you will feel.
Making any big change is difficult, including moving into a different home and adapting to a new lifestyle. It's normal to feel a little nervous about facing the unknown but you will work through those feelings over time – and the team at Hamlet is here for you every step of the way. With all of the benefits of living at our community, residents often find themselves settling in, making friends and feeling comfortable much sooner than they expected.