Questions About How To Pay For Senior Living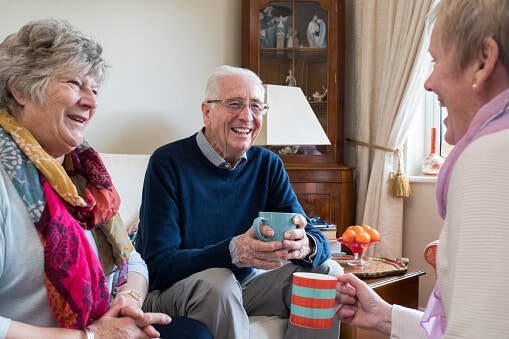 Figuring out the best senior living option and the associated costs can seem daunting. At Hamlet, we're happy to help with some of the most commonly asked questions about financing your retirement years. If you're looking for resources for making a financial plan for senior living, you can always contact us.
Options For Your Next Move
How much does senior living actually cost?
The cost varies greatly depending on a number of factors, including your location, type of care, and level of services and amenities. According to a survey by the National Center for Assisted Living, the national median costs of care for assisted living services were $4,000 monthly and $48,000 annually in 2018. Senior apartments without care are generally less costly than assisted living.
Does Medicare cover senior living?
Families are often surprised to learn that Medicare does not cover assisted living costs – outside of 100 days of skilled services or rehabilitative care for a qualified stay. Medicare Part A covers hospital stays, short stays in a nursing home for certain kinds of illnesses and hospice care in the last six months of life – all after a standard yearly deductible.
Is there financial assistance available?
We can help you determine whether financial assistance is available for you or a loved one. United States wartime veterans can qualify for the Aid & Attendance benefit for veterans and their surviving spouses. This monthly benefit is in addition to a veteran's regular pension and can help cover the costs of assisted living or nursing care. It is a "pension benefit" and not dependent upon service-related injuries for compensation. Most veterans in need of assistance qualify; however, we recommend that you allow plenty of time for the application process.
If your loved one falls below a certain income level, Medicaid may help cover a portion of their senior community or nursing home costs. Each state has its own set of regulations for how this works, so be sure to look into the process of requesting Medicaid assistance specific to Ohio.
Is senior living covered by long-term care (LTC) insurance?
Depending on the type of policy, long-term care insurance benefits can be applied to the cost of nursing homes and/or assisted living. There are increasingly flexible long-term care policies available that can meet needs ranging from adult daycare to assisted living to skilled nursing, with certain options even paying a family caregiver for in-home care. Premiums may be tax-deductible, and benefits from tax-qualified plans are non-taxable, making this option even more appealing. However, premiums can be costly and prices increase in cost with age and poor health, so experts recommend individuals begin planning between the ages of 52-64.
What are other ways to pay?
Traditionally, Americans' most valuable asset is their home. But, depending on the housing market and other factors, that capital may not be available when the time comes to make the move to a higher level of care. Many individuals and families first try to pay for senior living with the profits made from the sale of a house, but may also decide to look into other options, like renting the house or using the house to qualify for specialized loans.
A bridge loan is designed for individuals who need access to funds right away, but are waiting for a home to sell. These interest-only loans tap into a home's equity to pay senior living expenses until the home sells and then the borrower pays off the loan with money from the sale of the house.
Often seniors have funds invested in a life insurance policy but find they need financial support while living. To cash out a policy, ask your life insurance company about "accelerated" or "living" benefits. Commonly, the company that originally issued the policy buys it back for 50 to 75 percent of its face value. Different rules may apply depending on the company and type of policy. Another option, known as a "life assurance" benefit or life insurance conversion program, allows seniors to convert the benefit of a life insurance policy directly into long-term care payments.
More questions?
If you have additional questions about senior living and financial options, reach out to us at Hamlet at Chagrin Falls so we can provide you with the information you need to make the best choice for you or your loved one.