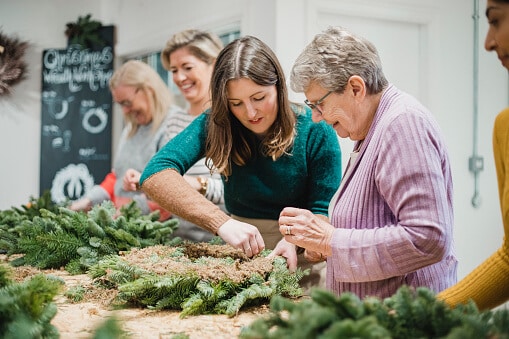 Holiday Activities for Seniors
in Assisted Living
The holidays are a time of rich tradition, which can make the switch to assisted living challenging for some seniors and their families around this time of year. If a senior's mobility is limited, you may have to make some adjustments to your usual holiday activities. The good news is that most assisted living communities offer tailored holiday activities that are safer and more convenient for your loved one. They can even help you find holiday activities for seniors that ensure that the essential components of the holiday are still part of the festivity: faith, food, giving and loved ones.
Faith
If faith is important to your loved one, there are several ways to incorporate it into the season. Many communities have connections with local religious leaders and will likely host services on-site so that the residents can attend. Why not join them for the service? If your loved one has a close tie to a specific church or synagogue, ask their care team for advice on how you could bring them.
Food
Food is a classic staple of holiday traditions. You could invite your loved one to your home to direct the food preparation if they're the expert. This is a great activity for enjoying holidays with seniors and a wonderful opportunity to pass down traditional recipes to the next generations. If your loved one can't easily leave their community, bring the action to them. The community may let you use their kitchen. If not, you could bring already-baked cookies and have a fun decorating party. And don't miss your chance to join your loved one for the community's holiday meals. Many chefs create delicious feasts for the residents and their families.
Giving
Receiving gifts is always nice, but the act of giving — of brightening someone else's holiday — can give your loved one a sense of purpose and connection to the larger community that really captures the spirit of the season. Take into consideration your loved one's abilities and stamina. Some of the most meaningful assisted living activities help those in need, and several can be accomplished on-site, within their community.
Ways to Give Back:
Assemble necessary toiletries for homeless people in your area.

Write holiday greetings to deployed veterans through organizations like

Operation Gratitude

. They could even dictate a letter to you, if that's easiest.

Bake dog treats for a local animal shelter. (Here's an

easy 2-ingredient recipe

.)

Knit or crochet hats for newborns and donate them to the local hospital. This could become a group activity with several friends from the community.
Volunteering your time and skills at the holidays can be a simple activity that could create a wonderful bonding experience for the family and even create a great way to include grandchildren.
Loved Ones
The best way to make the holidays special for someone in assisted living is to ensure they're surrounded by people they love. Invite some of the family to their community to watch classic holiday movies, have a group sing-along or play family holiday games. The community itself will likely have holiday festivities planned. You could simply join your loved one for one of those events. Get to know their friends in the community and include them in your celebration. The important thing is to spend quality time with your loved one.
As you look toward the holidays, it may help to consider the assisted living activities that can enhance your holiday. The closeness of new friends in the community can add new color to the festivity. Team members who work with your loved one can offer insight — maybe the activity director at the community knows some holiday games for seniors that you and your family could add to your repertoire. Remember that the central ideas that make this time of year so special are still possible. Some easy tweaks to classic holiday activities can preserve the magic in this new situation.
Contact Hamlet at Chagrin Falls to learn more about the holiday events in our community and how we can help you have a happier season.