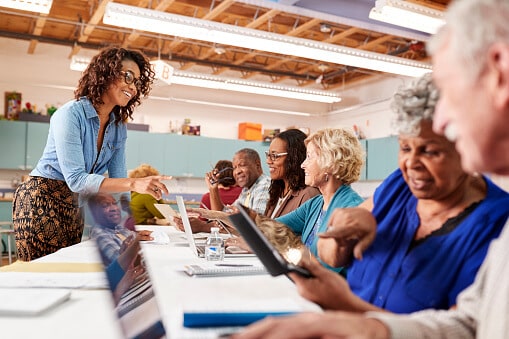 Staying active as we age is generally accepted as good medicine in the prevention of physical decline. But the question is often asked whether staying mentally active through lifelong learning for seniors can help delay or even prevent the onset of age-related dementia or Alzheimer's disease. The answer is yes — up to a point. Research has shown that lifelong learning for seniors can result in less memory loss and fewer cognitive disorders, such as Alzheimer's and dementia, and thus reduced need for dementia care or memory care.
A landmark Mayo Clinic study found that lifelong learning is associated with a delay in the onset of age-related mental decline.
The study found that the signs of dementia were delayed in people who had worked in challenging careers or whose habits included strong intellectual pursuits. If you've engaged in regular intellectual exercise over the course of your life — classwork or job roles that require a lot of thinking; or brain-stimulating leisure activities like reading, puzzles, writing and so on, you may well see extended cognitive benefits late in life.
Another study, published in the medical journal Neurology notes that while cognitive activity can't change the biology of Alzheimer's disease, learning activities can help delay symptoms. Researchers used brain scan imaging to measure levels of the Alzheimer's-associated protein called amyloid in specific regions of the brain responsible for memory. The test group that had greater intellectual activity over their lifetimes was able to delay the appearance of symptoms, presumably because their stronger intellectual base compensated for the effects of the disease for a longer period of time.
Yet another study found that for people who speak two languages, the initial effects of cognitive decline — mild memory loss, loss of coordination and diminished ability to make sound decisions — were delayed by up to 4.5 years compared to those who speak only one language.
It isn't too late to continue learning.
Learning comes in many forms. Even people with relatively low educational and professional achievements can gain protection against late-life dementia if they embrace the principle of lifelong learning and adopt a mentally stimulating lifestyle — reading, playing music and games, or taking a foreign language class, for example. Artistic endeavors that include crafts, group activities and computer work can also benefit the aging brain. Consider these benefits:
You'll stay connected.
Participating in continuing education classes or taking an online course of study will allow you to connect with new people and exchange current ideas.
You'll feel more fulfilled.
Lifelong learning enriches your life. You're opening your mind, gaining wisdom, and making the world a better place by sharing your voice.
You'll grow happier.
Lifelong learning improves emotional balance and helps avoid depression. It lets us find happiness throughout every stage of life.
Your brain will thank you.
Lifelong learning is good for your gray matter. As long as you're acquiring new knowledge, you're keeping your brain engaged and healthy.
It's easier than ever.
Online education is a real possibility for everyone no matter where or how you live. It adapts to your schedule, and you can pursue it to the level you prefer. You might choose to take a single course or follow a degree program. Today, accredited colleges and universities offer online degree programs.
Rather than ending education at any specific age, we encourage you to continue learning throughout your lifetime, whether on your own through self-directed learning or in an adult education and continuing education setting. Hamlet at Chagrin Falls can help get you started. Independent Living residents can choose from a range of classes and activities on campus, and we can help you discover and pursue whatever education pathway interests you.