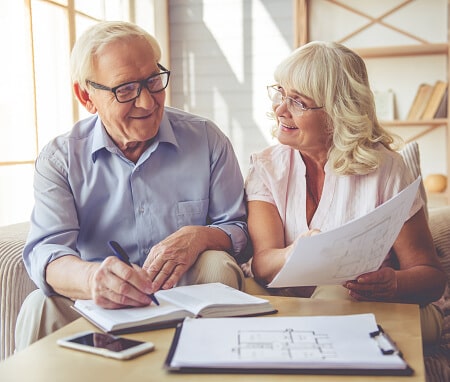 The first time you look at a floor plan, it might look like a bunch of mumbo jumbo. It's a lot of lines, numbers, and symbols that seem to exist only in the world of blueprints and plans. To take control of your senior living search, you first must master the art of reading and understanding senior living apartment floor plans, so you can go into meetings and tours knowing exactly what you're talking about, and ultimately choose the best floor plan to suit your needs. Once you know what you're looking at, you'll be equipped with the knowledge you need to search for your perfect senior living apartment with ease and confidence.
Things to Consider When Reading Senior Living Apartment Floor Plans
How many bedrooms and bathrooms do I need?
Is it just you, or do you have a partner or friend moving in with you? Would you benefit from having an extra bedroom to use as a guest room or home office? Can you do with just one bathroom for multiple people, or would you prefer two? These are the kinds of questions you need to ask yourself first, before you can decide on anything else. Once you've nailed down whether you want a studio, one-, two-, or three-bedroom residence, and with how many bathrooms, you can start to flesh out the rest of your wish list for the perfect senior living apartment for you.
How much space do I need?
You should go into your search with an approximate desired square footage in mind. Will a cozy 500-square-foot studio do just fine for you? Will you and your partner need a bit more space to maneuver around? Do you or your partner use a wheelchair or walker and could benefit from wider hallways and a little more breathing room? Then perhaps 1,500 square feet will work better for you. If you have a hard time visualizing exactly how much space, say, 1,000 square feet is, use the square footage of your current home as a point of reference. Then ask yourself if you need more space than you currently have, or if you could stand to downsize, and establish your desired total square footage based on that.
Then look at the dimensions of the rooms. The dimensions of the rooms are usually shown in the center of each room, and may read, "12' 10" x 15' 9," which means the room is 12 feet, 10 inches wide, and 15 feet, nine inches long. Think about which room would be the master bedroom, and determine if it would be large enough to house the furniture you'll be bringing with you. Next, look at the closet. Closet size is a personal preference, so note whether it's a walk-in or not, and decide how important that factor is to you. You might also look at the dimensions of the kitchen and pantry, and note how much counter space the residence appears to have if you like to cook. In the kitchen, pantries are sometimes labeled as "P."
If you've got a pet, that's something to consider, too. You and your pet might benefit from having some extra room for your furry companion to prance about.
If you or your partner do use an assistive device, you might want to consider which way the doors swing, and if that creates tight spaces. Doors that swing out are indicated with an arc shape, with the hinge of the door being on the side of the frame that creates a 90-degree angle. The floor plan may also show it has pocket doors, which slide into the wall. Those are normally indicated with a small symbol on one end of a door frame to indicate from which direction the door slides in and out.
How important is having access to the outdoors to me?
For some, it's crucial to be able to breathe in fresh air and let the sunshine into their home. If you value that, look to see if the floor plan has an area protruding from the main space, and is labeled "Patio" or "Balcony." Compare its size to the rooms on the floor plan to envision how much space you'll have to place a couple of chairs, plants, or whatever pleases you.
Do I need storage space?
Don't forget about all that extra stuff we all have packed away in closets and don't necessarily use every day, but want to keep around. Check to see if the floor plan has an area labeled "Storage." There may be a spare closet near the entry, or if you're opting for a two-bedroom but intend on mainly using just one, the second bedroom could hold some of your extra things.
Which appliances are crucial for me to have?
An in-unit washer and dryer, dishwasher, and garbage disposal can be deal breakers for some. These things aren't always visible just by looking at the floor plan, but sometimes they are, so be sure to check to see if the floor plan you're looking at has the appliances you want and need.
How to read floor plans: Washers and dryers are sometimes labeled as "W/D" or "W" and "D." In the kitchen, dishwashers can be labeled as "D," and refrigerators as "REF."
Do you prefer a shower or a tub? Showers are usually marked with crossed lines over the space, like an "X." Bathtubs are usually left as open space with a tub-like shape inside.
Now Let's Practice on a Real Hamlet at Chagrin Falls Floor Plan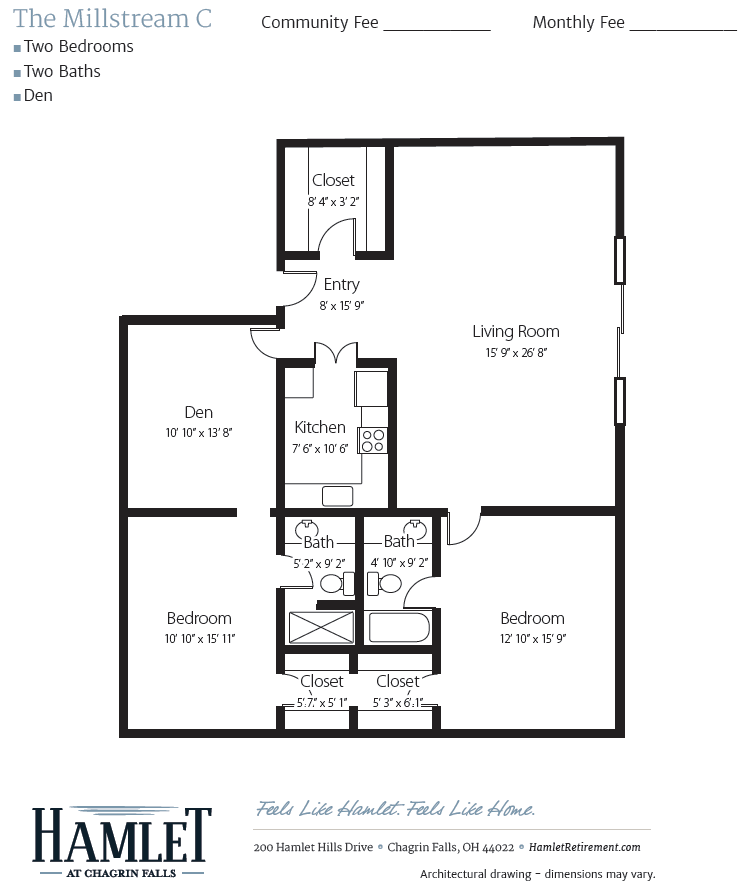 Take Hamlet at Chagrin Falls' very own floor plan, "The Millstream C," for example. In the top left corner, you can see it's a two-bedroom, two-bathroom residence with a den. Ask a representative from Hamlet about the estimated total square footage of the particular floor plan you're interested in. It says in the bottom right corner that Millstream C is an architectural drawing and actual dimensions may vary, so keep in mind as you're looking at it that, while it's a great point of reference and introduction to the floor plan, you'll need to tour the actual residence and take measurements if you require that level of detail.
The Millstream C appears to have quite a large living room. The windows shown on one wall of the living room look like they could be a sliding door leading outside, which is something to confirm with your representative from Hamlet – where does the residence you'd be living in open out to?
The two bedrooms' closets appear to open into one another, so you could consider it one large closet. The smaller bedroom also leads to the den, which is something to consider when you're thinking about the purpose of each room. The kitchen has walls on three sides, and has doors that swing out from both sides of the frame, like French doors. That's something to think about if you like to spend a lot of time in the kitchen – do you want to be in your own space, or do you want more of an open concept with a counter that overlooks the living room for entertaining?
The master bathroom has a tub, and the second bedroom's bathroom has a shower. The residence doesn't appear to have windows other than what could be a sliding door in the living room, but every window isn't always represented on senior independent living floor plans, so double-check with your Hamlet representative, or better yet, schedule a tour to see the residence in person.
There's a lot to consider when you're choosing a floor plan that will suit your needs, but it helps if you thoroughly understand how to read floor plans first, and you know what you want. Luckily, Hamlet at Chagrin Falls has tons of beautifully laid out senior living apartment floor plans, so there's something to satisfy everyone's requirements. Browse our senior independent living floor plans today, and you're sure to find the floor plan that checks off all your floor plan wish list boxes.